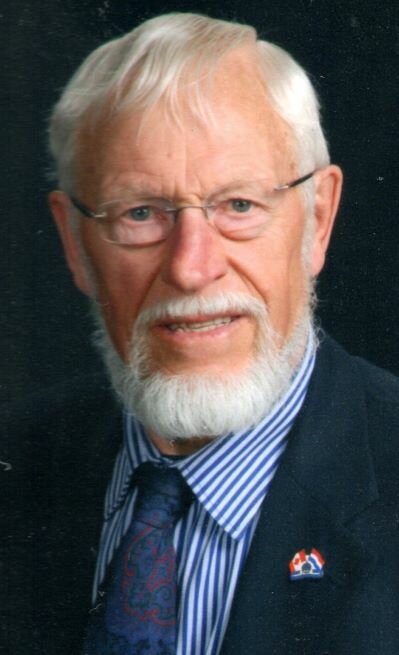 Obituary of Peter Winter
Please share a memory of Peter to include in a keepsake book for family and friends.
Peter Arent Winter died peacefully in his sleep on Thursday, October 28th, 2021. Pete was born in Beilen, The Netherlands March 7th, 1935. At age 16 he, along with his family, emigrated to Brantford, Ontario, Canada. He and his father began working as plasterers and eventually started a business Winter and Son Plastering, later known as Winter and Son Drywall. Pete was active in supporting Christian Education and was involved in his church as a Sunday School teacher, catechism teacher, elder, singer, The Ambassadors Male Chorus and handyman. After retiring he travelled more and volunteered for a number of organizations. Pete loved canoe trips, gardening, and outdoor activities. After living most of his life in Brantford, Pete moved to Barrie in 2020. He leaves behind his wife, Katie and children and grandchildren: Janette and Dick, Yolanda and Jeff, Arnold and Betty, Erica and Matt; Ada, Ian, Lea, Zoe, Jimmy, Christina, Stephanie, Bernice, Amy, Sophia, Thomas, Andrew and Evan. His step-children, grandchildren and great-grandchildren Angie and Garry, Ed and Teresa, John and Kristie, Richard and Claudia and Kim and Andrew; Joel and Jackie, Andrew and Jaclyn, Matthew and Amber, Stephen, David and Teresa, Michael and Jordan, Nathan, Kaleb, Grace, Xander, Esme, Emiel, Bryn, and Jack; Koen, Madeline, Austin, Lennon, Everett, Aaron, and Levi. Pete was predeceased by his first wife, Nell Winter-denDekker (2005), daughter, Bernice (1984) and daughter-in-law, Johanna (2018). Pete's siblings are: (Grace 2015) and Hank Rumph, (Jake 2021) and Alice, Anne and John Knier, Ben and Julie, (Henry 2016) and Emma, John and Jacomina, Reynold and Cathy, Gerda and (Brian 2021) vanStaalduinen, Ellen and John Hunse, Joanne and Ted Parker. Pete's in-laws are (Elizabeth 1974) and Mohammed Ismail, (Hannie 2019) and Jaap van der Straaten, (Wim 2019) and Ida den Dekker, Bas and Janny den Dekker, Heimen and Anky den Dekker, and (Jan den Dekker 1997). Pete's step in-laws include: George, Jake and Pat, Frank, John and Kathleen, (Diane 2008). Pete also leaves behind many nieces and nephews. Family and friends will be received on Friday, November 5th, 2021 from 2:00-4:00 p.m. and 7:00-9:00 p.m at Hill and Robinson Funeral Home, 30 Nelson St, Brantford, 519-752-2543. Due to Covid 19, social and physical distancing rules must be followed and masks must be worn. A private burial will take place before the service; Memorial service will be taking place on Saturday, November 6th, 2021 at 11:00 a.m. at Hope Christian Reformed Church, 64 Buchanan Crescent, Brantford. Physical distancing and masking is required at the church.
Share Your Memory of
Peter
Hill & Robinson Funeral Home
30 Nelson Street
Brantford, Ontario
N3T 2M8
Phone: (519) 752-2543